Health Promotion
The Toronto People With AIDS Foundation (PWA) believes in offering services that contribute to a holistic approach to health and so provides a large variety of free alternative health services that promote the physical, social and emotional well being of our clients. These programs are meant to complement conventional medical care and are effective ways to improve health and quality of life of people living with HIV/AIDS.
Contents:
Complimentary Therapies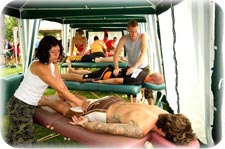 Trained practitioners provide one hour treatment sessions to help clients decrease stress, stimulate the lymphatic system and limit muscle atrophy. Therapies include Reiki, Swedish massage, and therapeutic massage and energy healing. PWA also offers student massage acupuncture clinics in partnership with several local acupuncture schools.
Clients can register for a clinic that includes weekly rehabilitative massage or acupuncture treatments. If you have any questions about these programs, contact our Therapeutic Care Coordinator.
Naturopathic Clinic
The Community PHA Naturopathic offers free holistic health care to clients looking for complementary approaches to managing their HIV infection and the side effects associated with antiretroviral therapies. Naturopathy is a recognized form of complementary medicine that uses natural substances and the body's own healing powers to treat and prevent illness.
Services include acupuncture, botanical medicine, homeopathy and clinical nutrition. The clinic is the largest naturopathic clinic in North America to serve people living with HIV/AIDS.
Appointments at the Community Naturopathic Clinic can be booked through the Sherbourne Health Centre at 416-324-4164.
This program is run in partnership with the Sherbourne Health Centre and the Canadian College of Naturopathic Medicine.
Needle Exchange / Crack Kits
The goal of the needle exchange and crack smoking kit programs is to reduce the risk associated with injection drug use and smoking crack particularly the risk of spreading infections such as HIV and hepatitis C. The program uses a harm reduction approach, which minimizes risk while respecting the reality of people who use.
Anyone who uses injection drugs can safely dispose of used needles and pick up clean ones in an accepting, non-judgemental environment. Crack smoking kits are also available, as well as practical information, support, and referrals for users.
If you have any questions about this program, contact our Treatment Resources Coordinator.
This program is run in partnership with the City of Toronto's The Works Program.
Social Programming
Emotional health is just as important as physical health when living with HIV, which is why PWA offers social programming.
PWA helps create opportunities to attend social outings, such as its Holiday Show and Community Summer Picnic, or even get a haircut. Reduced isolation, increased social support, ongoing learning and improved self-esteem are all social determinants that play an important role in staying healthy.
If you have any questions about these programs, contact our Therapeutic Care Coordinator.
Haircuts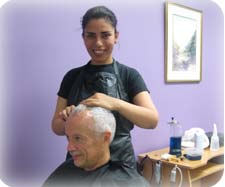 Every Tuesday, professionally trained hairstylists provide free haircuts at the PWA offices.
PWA Summer Picnic
In the summer, PWA organizes a summer picnic for its clients in partnerships with other AIDS service organizations. The picnic provides a fun social outing in one of Toronto's city parks.
Holiday Programs
The winter holiday period can be an especially challenging time and so PWA has created three Holiday Programs - children's gift certificates, holday hampers, and holday dinner - each of which seeks to address one or more of the following goals:
To decrease the social isolation experienced during the holidays by fostering a sense of community and festivity
To help alleviate the financial hardship of individuals and families
To provide high quality food items to support healthy nutrition
PWA Children's Gift Certificates Program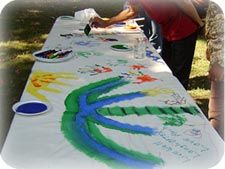 The PWA Children's Gift Certificates Program helps families struggling to meet basic needs afford gifts for their children during the holiday season. Each December, PWA distributes HBC gift certificates to children who are HIV positive or to children whose parents are HIV positive.
Clients interested in the program should contact their Benefits & Assistance Case Manager.
Holiday Hampers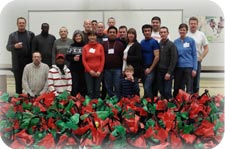 The Holiday Hamper program provides people living with HIV/AIDS with a special hamper of high quality food items, personal care products and other gifts in order that they may participate in the spirit of the season. For many, it is their only opportunity to receive a gift. Holiday Hampers serve to lift the clients' spirits and to maintain their nutritional intake.
All clients are welcome to receive a Holiday Hamper and attend the Holiday Dinner and Show. Information about Hamper distribution is available in November.
Holiday Dinner and Show
The Holiday Dinner and Show provides a festive meal and live entertainment to clients of PWA. The Holiday Dinner and Show celebrates the joy of the season by providing a fun environment and a nutritious meal. There is a special emphasis on including homebound clients, who are especially socially isolated due to health and mobility challenges. The Holiday Dinner and Show usually takes place within the first two weeks of December.
All clients are welcome to attend the Holiday Dinner & Show and receive a Holiday Hamper. Information about Holiday Dinner and Show is available in November.
Pet Program
Pets bring joy and comfort to their owners, and can be an especially valuable companion to people living with HIV/AIDS. The Pet Program offers help to people living with HIV/AIDS who need assistance in caring for their cat or dog. In addition to supplying pet food through the Essentials Market, PWA offers access to yearly check ups, vaccines and neutering or spaying at reduced rates through seven downtown veterinarians.
More information about the program can be obtained from the PWA Reception or through the Therapeutic Care Coordinator.
Theatre Access Program
The Theatre Access Program distributes donated tickets to those who otherwise may not have means to access cultural and recreational activities that many take for granted.
Canada's Wonderland, Ontario Science Centre, Rainbow Cinemas Market Square and the CNE are but a few shining examples of support that we have received for this program. If you are interested in donating tickets to PWA please contact our Therapeutic Care Coordinator.
If you are a client and want to find out about these opportunities when they become available please email our Therapeutic Care Coordinator to be put on our weekly email distribution list. If you do not have access to email you can also listen to the Programs Information line at 416-506-1400 ext. 260.
We are also working with Kids Up Front to provide entertainment, educational and recreational opportunities to kids. If you are a client who is 18 years old and younger, or a client with children 18 years old and younger, please email our Therapeutic Care Coordinator to get on a separate email distribution list for Kids Up Front and access to free tickets to children and youth friendly events.
If you have any questions about this program, contact our Therapeutic Care Coordinator.
Vitamin Supplements
HIV and the medications used to treat it can block the body's ability to absorb nutrients from food. Taking vitamins supplements can counter deficiencies and their damaging effects to the immune system and overall health. PWA supplies free multi-vitamins when available.
PWA would like to thank the Village Pharmacy for their generous donation of Vitamin Supplements for this program. Their dedication to helping people living with HIV/AIDS is deeply appreciated.
If you have any questions about this program, contact our Service Access Manager.
Yoga
Yoga can improve the well-being of the body, mind and spirit. Yoga classes teach relaxing breathing techniques, stretching and meditation. PWA offers classes for beginners and experts.
If you have any questions about this program, contact our Therapeutic Care Coordinator.
---
The Health Promotion program is generously funded with key support from the Toronto Central Local Health Integration Network.
Frequently Asked Questions
What is Reiki?

Reiki is a holistic, light-touch, energy-based Japanese therapy. It works to enliven, recharge and realign your body's energy, helping to create an ideal atmosphere for healing. The therapist's hands 'rest' in various places on the body throughout the treatment. There is no pressure, manipulation or massaging involved.

What is Shiatsu?

Shiatsu is a non-invasive Japanese therapy that stimulates the body's ability to heal itself. It involves the application of pressure, primarily by the thumbs, to different points on the soft tissues of the body.

What is naturopathic medicine?

Naturopathic medicine is a system of primary health care that addresses the root causes of illness and promotes health and healing using natural therapies such as herbal medicine, acupuncture, homeopathy, nutrition and physical medicine.

How do I access the Holiday Programs?

Starting in November, you can find out when and where the programs will be held. The information will be available in many forms: included with the Financial Assistance cheques, at the Essentials Market and by calling PWA reception. To access the Holiday Children's Fund, contact your case manager in November or December.

Can my family/friends/loved ones participate in Holiday Programs as my guest?

You may bring one guest to the Holiday Dinner and Show. A minimal charge applies. You will need to contact the Health Promotions Coordinator to bring a guest.

How do I find out more about the Pet Program?

You can pick up the guidelines and list of participating veterinarians from PWA Reception at any time.

How do I register for the Theatre Access program

Please contact the Health Promotions Coordinator and ask to be notified of opportunities as they arise.

How many tickets are offered for a particular event?

Tickets for these events usually come as a pair. Exceptionally, it may be possible to obtain more for larger families.

Do I have to bring my own yoga mat to the class?

No. PWA provides you with all yoga equipment at the class. Simply come to the class wearing loose, comfortable clothing.

Do I have to register for a yoga class?

Yes, please contact our Health Promotions Coordinator to register in advance.