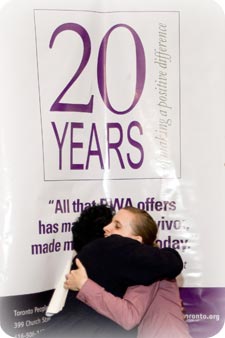 Mission & History
Mission
We engage people living with HIV/AIDS in enhancing their health and wellbeing through practical and therapeutic support services and broader social change, and we inspire them to live into their dreams and discoveries.
Vision
We live in affirming, sustaining communities where we find inspiration and support for our dreams, health, wellbeing and meaningful contributions.
Philosophy
People living with HIV/AIDS play a crucial role in the governance and operation of the Toronto People With AIDS Foundation, but, most important, are its heart and soul. Although the Foundation seeks supportive partnerships in fulfilling our mission, our response to HIV/AIDS is, more than anything else, inspired by the voices and experience of people living with HIV/AIDS.
Strategic Plan 2011-2016
This strategic plan was created through many rich conversations, focused on the best of PWA now, and what PWA is being called to become into the future. This was a time of reflection, storytelling, listening, questions, metaphor, and deep, insightful thinking about how PWA can most meaningfully continue to evolve.
---
History
Since 1987, the Toronto People With AIDS Foundation has been helping men, women and children live with HIV/AIDS. We are a community-based non-profit registered charitable organization.
After the discovery of AIDS in 1983, AIDS Service Organizations formed to address the major trends of the disease: to help prevent the spread of HIV and to care for those dying from AIDS-related illnesses. Within a few years, a new trend emerged; more people were living longer with HIV than were living with full-blown AIDS.
In 1986, in response to this emerging trend and frustrated by the public's focus on AIDS prevention, four gay men living with HIV/AIDS began meeting to discuss ways for people living with HIV to stay healthy and live with dignity. They formed a coalition with a mandate to provide practical, direct-support services to people living with HIV/AIDS using a peer-to-peer model. This coalition organized the structure of the Toronto People With AIDS Foundation and, on May 11, 1987, the Ontario Charitable Letters of Patent were granted. At the first Annual General Meeting in 1988, membership elected a nine member Board.