Community Events
PWA participates in several community events coordinated by other organizations. We are always looking for new and innovative ways to further our goal of supporting people living with HIV/AIDS. If you would like to raise funds for PWA by having an event, please contact Director, Philanthropy & Communications.
All events are in support of the Toronto People With AIDS Foundation.
Tighty Whitey Car Wash
Thank you to Andrew Thornicroft, Mr. Steamworks 2010 and all the volunteers, donors and sponsors for making the 2010 Tighty Whitey Car Wash such a success. $7,500 was raised for the practical direct support services provided at the Toronto People With AIDS Foundation.
The Imperial Court of Toronto (TICOT)
The Imperial Court of Toronto was founded in 1987 with the original mandate of promoting 'Friendship, Unity and Nonsense' (F.U.N.) through holding entertaining and fundraising events. Since its founding in 1987, under the leadership of 32 elected Monarchs, TICOT has entertained thousands, held many successful events and rasied money for a number of local charities, including PWA, Casey House, AIDS Committee of Toronto, AIDS Memorial, AIDS Tijuana, Canadian Lesbian and Gay Archives, Toronto Metropolitan Police (purchased their 1st bikes for community patrols) and Gilda's Club. Each year, the elected Empress and Emperor select charities towards which fundraised dollars will be designated that year.
PWA welcomes the new reigning Toronto Monarchs!
HMISM Empress XXIV Dusty Balfour, The Wicked Emerald Empress and her Imperial Crowns
HMIM Imperial Crown Prince XXIV Dallas Norman Vanderbilt and
HMIM Imperial Crown Princess XXIV Carlotta Carlisle.
PWA has been selected as one of the charities of choice for 2011.
We look forward to another fun, successful year!
---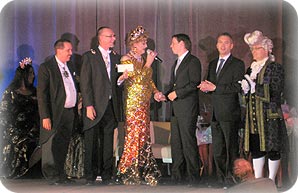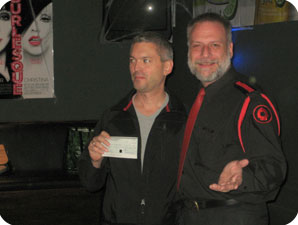 Frequently Asked Questions
What kind of events do individuals or businesses hold to raise money for PWA?

Third party events are only limited by one's imagination. Businesses have hosted bar nights and offered discounts (which they then donate). Individuals have hosted dinner parties (inviting guests to make a donation), organized dance or social nights and dreamt up a wide variety of creative activities.
You can host your own fundraiser and raise money for PWA by creating an online event page. It's easy and can be personalized; start your online fundraising page today.